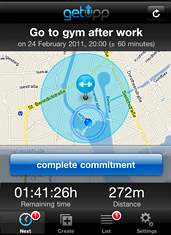 Lately, you've been setting a lot of goals for yourself.
Eat more falafel. Tame at least one water buffalo using nothing but a pack of Fun Dip and a copy of Neil Diamond's Love at the Greek album. You were even thinking about working out.
Which means you'll need some motivation...
Excessive amounts of peer pressure should do. Introducing GetUpp, a brand-new mobile app/website that notifies all of your Facebook friends as to whether or not you're following through with your goals, now available.
The premise behind this thing is simple: do what you say you're going to do or be subject to public humiliation. So let's say that in preparation for your annual pool christening, you've made a commitment to start showing up on time to your Tuesday evening bronzing clinics with George Hamilton.
Either jump online or pull up the app, specify what your goal is, what time you plan on accomplishing it and where that will be. Once you do, GetUpp will post your intentions to your Facebook wall and automatically track your whereabouts to determine whether or not you followed through.
If and when you do: undying praise from your adoring and ever-watchful fans. If not: the site will post an automatic update, complete with the word "fail" emblazoned in red across your wall. Oh, and you won't be able to delete it, either.
Now might be a good time to unfriend your mom.