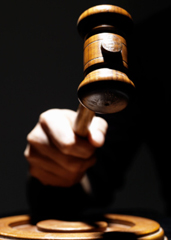 It's early spring, so naturally we want to talk about Santa Claus.
You've always thought he had a pretty good gig. The milk. The cookies. The army of obedient elves and reindeer.
So if we told you we knew of a site where you could play St. Nick—deciding who's naughty, who's nice and who deserves a gift—well, perhaps that might be of interest...
Meet
Beg for It
, a new website where you decide who deserves a gift based on their story, now online.
This is basically a place where people compete for free stuff by saying why they deserve it. But that's not important right now. Right now, they need a judge...
And that's where you come in.
You'll log on, and look at the assortment of prizes—cameras, MP3 players, that kind of thing. Pick one. Then go in and sort out which story is the most persuasive—an SMU student who broke his iPod Nano doing keg stands, the secretary whose boss won't stop blasting "Whip My Hair." Weigh everything very carefully. Then, finally, toss on a judge's robe (for effect) and declare a winner.
This is the future of the justice system.