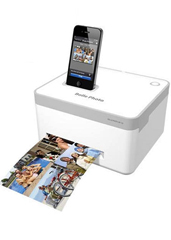 So here we are... Tuesday afternoon.
Yet, right there on your iPhone: evidence of Saturday night. Just sitting there. Vulnerable. In all of its lurid, multi-pixel, incriminating glory.
Sounds like it's time to get those pictures off your phone. They belong in a frame.
We think we've found the printer worthy of the task: the
Bolle iPhone Photo Printer
, a clever little device for printing print-shop-quality photos without the hassle, now available online.
Now, we know: you probably have a printer. Does a good job on pie charts, maps and your ongoing quest to finally have a handy hard copy of Wikipedia. But photos present their own special challenges: they drain your ink; you always forget to buy that special paper; or when you're at work, the boss frowns upon you printing out images of you and Charlie Sheen. Consider these problems solved.
This little box will fit right on your desk and works sans the usual ink-jet method. Instead it uses a special paper to print high-quality, 300-dpi, 4x6 photos in seconds. Just dock your iPhone or iPod Touch—there are special cords for other devices like your iPad—and 12 seconds later you have a hard copy ready to autograph and send off to one of your fans.
Charlie will be so happy.