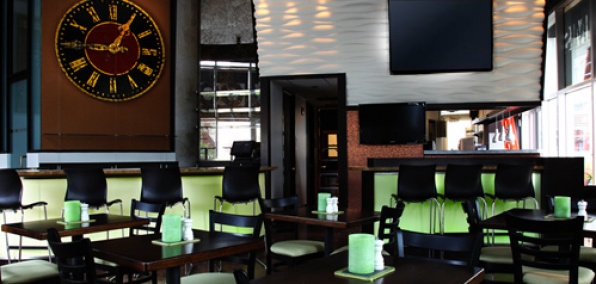 Let's review.

One Arts Plaza: great for indulging in patio dinners of flatbreads, short ribs and/or sake.

But after dinner: crickets.

Until now. Or actually, later this week...

Presenting The Commissary, a new late-night gourmet burger joint with its own tasting restaurant, soft-opening this week in the old Dali location.

Yes, you heard that right—a restaurant within a restaurant. It's like Inception (but sadly, no Marion Cotillard).

First, there's the Commissary itself—a tall room with a winding bar made from old corks. You'll find yourself here for three reasons: a power lunch over chicken-fried burgers with gravy on the front patio. A raucous dinner with hanger steaks and wine punch bowls in the lime-green banquettes. Or, come 1am, lounging by the back patio fire pit with a short rib burger in hand.

But for those evenings when you need more one-on-one time, head to the Table. You can enter through the Commissary, but you'll take a separate door (eight long feet from the main one; also conveniently marked "The Table"). Inside, an intimate room with one long communal table for 12. Here, you'll eat from a set menu of six courses. And it all concludes when they roll out the candy cart.

Consider the Skittles your seventh course.