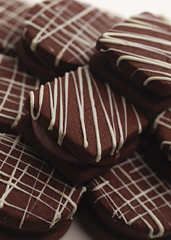 It's time to take stock.
The busy season is slowing down. The rainy season is starting. Soon it will be too hot to leave the house. Not even for baked goods...
Here to help:
Mistti
, an under-the-radar company delivering gourmet alfajor cookies to your door, now taking orders.
So alfajor. On the off chance some explanation is needed, here's what you should know: it's an Arabic sandwich cookie that originated in Spain and got popular in Latin America. (We wouldn't rule out CIA involvement.)
Local bakery Mistti has a modern take—they've shrunk this thing down to a smaller, truffle-like size (basically, the Mini-Me of the cookie world) and gussied it up with pecans and chocolate chips. But they've also stayed true to the original hit—the
Chocolate Dulce de Leche
cream sandwiched in between two shortbread discs.
Call on the Mistti crew the next time you're planning an office blowout and want to upstage Phil in accounting (his secret donut guy peaked around Christmastime). Or surprise that pastry chef's apprentice (the redhead) with a handsomely packaged dozen of the
Triple Chocolate
(chocolate shortbread, and a chocolate dulce de leche and white chocolate filling).
It's the ménage à trois of desserts.