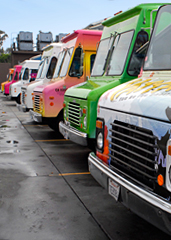 Let's play a game.
It's called food truck.
And the objective is to see who can talk about food-truck-related scenarios the most within a two-week period.
We win...
Because this time, we bring you word of the
Pop-Up Chef Series
, a weekly commune involving the city's finest mobile eateries, a few local rock-star chefs and fistfuls of your hard-earned Washingtons, making its inaugural debut tomorrow afternoon in the streets of Midtown.
The concept behind this little curbside soiree is glorious in its simplicity—every Thursday, a fleet of food trucks will gather along the Midtown Mile... and then you'll eat the food they make. But when you're done feasting upon pulled-pork sliders with cucumber kimchee at Yumbii and cleansing your palate with the King of Pops' finest, you'll want to proceed directly to the plaza at the corner of 10th and Peachtree.
Your pop-up chef is waiting.
Expect a new chef rolling out street-y oddities each week (Hugh Acheson from Empire State South, Steven Satterfield from Miller Union...). But tomorrow, Bakeshop's own Jonathan St. Hilaire will be hawking Spotted Trotter hot dogs and Maine lobster meat with tarragon aioli on potato rolls.
Oh, and since no streetside food expedition would be complete without the proper soundtrack, they'll also have live music in the courtyard.
It's the right way to eat a hot dog.