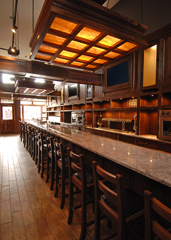 You might have heard: the government is thinking about shutting down. Something about a budget squabble.
Don't worry: if this thing drags on, we know a place where you can ride out the storm.
And yes, it has eight kinds of oysters.
What we're talking about:
Senart's Oyster & Chop House
, the new incarnation of a tavern of the same name that closed down in 1939, expected to open next week on Capitol Hill.
This is where you'll go for oysters, plain and simple. You'll come in, take a seat at the nearly never-ending, 50-foot-long marble slab and spend the better part of your evening raiding the ample raw bar, which will be keeping a rotating selection of six to eight varieties of oysters on ice. (Also on the menu: prime rib, lobster roll sliders and Cayman snapper turtle soup.)
Speaking of ice, your refreshments include the sort of cocktails that were around when this place was first hopping back in the '20s: think Dark and Stormys, Old Fashioneds, Pimm's Cups and adult slushies called "crushes" made with vodka, grapefruit and orange (we hear Warren G. Harding was a slushie man).
And you may want to stop by here early: from 3 to 6pm every day of the week, everything on the raw bar will be half price.
See you at 3:01.