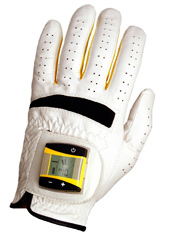 In a few days, golf's finest competitors will gather in Georgia to compete for honor, glory and a very handsome green blazer. Also, the Masters is this weekend.
So we'll just come out and say it: we think this could be your year.
All you need is a little help from a futuristic glove...
Introducing
SensoGlove
, a new electronic golf glove that can analyze your swing, now available online.
It's like having a robot golf pro tied to your hand, guiding you to that elusive perfect swing. It looks and feels like a regular golf glove, but with four pressure pads sewn into the fingers and a mini computer strapped on the wrist. Together, they'll analyze your swing and direct you toward the perfect, Tiger-esque drive. (No comment on whether it will give you any other Tiger-esque abilities.)
So imagine your next round with Alice Cooper, Warren Buffett and Julian Schnabel (apparently they go to the same gym). You'll find yourself lining up a chip shot, and your glove starts beeping. (Hearing Alice discuss stage makeup with Warren always makes you tense.) You'll look down, and the screen will reveal the culprit—your ring finger is applying the death grip to your pitching wedge. You'll take a deep breath, loosen up, try a few practice swings and step back to the ball.
At some point, you may have to explain the beeping.