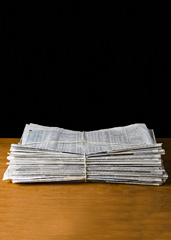 You run with a pretty important crowd.
Your best friend from high school: now CEO of Pringles. Your roommate in college: now a starting forward for the Pistons. Your prom date: getting married this month to some Brit named William.
Naturally, it can be difficult to keep track of everything they're up to.
Allow us to step in...
Introducing
Newsle
, the new way to keep tabs on all your friends making headlines across the globe, now in beta courtesy of two Harvard sophomores.
Think of this like setting up a Google Alert for your friends in the news, but better at finding the news associated with exactly who you're looking for, instead of anyone with the same name (although "John Tesh" misfires tend to be low).
To start, you'll simply set up an account, import your Facebook and/or LinkedIn contacts and browse through the list of celebrities, athletes and public figures you might also decide to follow (
finally
, Hamid Karzai
and
Bono news at once).
Then, your account will begin showing any news involving your friends—say, your buddy who just sold his startup for seven figures (perfect time to hit him up for that 50 bucks he owes you).
It even has a tool for measuring everyone's Fame Factor, so you can compare your newsworthiness against your friends.
Chances are, Clooney has you beat.