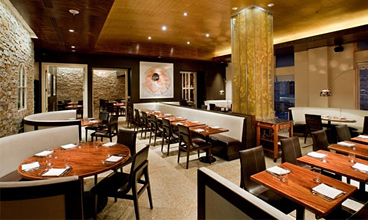 So. Big basketball game tonight.

But since your bracket was in shambles weeks ago (thanks, VCU), we come to you today not with news about chicken fingers, hot dogs or other hoops-accompanying fare.

But rather: 13-layer lasagna.

Make that James Beard award-winning 13-layer lasagna.

Introducing Fiola, a new haven of Italian-ness primed for your next rendezvous with a starch-loving belladonna, opening a week from today in Penn Quarter and now taking reservations.

First, you should know that this comes to you from Fabio Trabocchi, a James Beard award-winning chef you may remember from his popular Maestro in Tysons Corner. This time around, he's not making you spend an hour in gridlock to taste his food (although you may have to deal with a hungry Caps fan or two).

The vibe is Diane Lane–level Tuscan villa, so you'll want to come in and start things off with one of the nearly 150 Italian wines, 12 proseccos or bottled beers from the boot (Peroni, Moretti, Baladin). Then, you'll dig into your Lobster Ravioli or the massive 13-layer Vincisgrassi Lasagna, packed with veal, prosciutto and parmigiano-reggiano (go ahead, split it up, six-and-a-half layers apiece).

And if all goes well, this summer you'll be able to take your pasta and Super Tuscan upstairs for dinner on the roof.

Ravioli always tastes better at altitude.