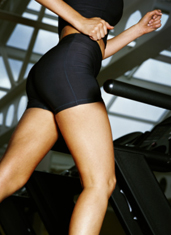 The Marathon approaches.
And this year, you said it would be the year you finally win (or at least keep pace with that guy from Kenya).
Time to train. Hard. With a little online help (and Facebook).
Introducing
Sportlyzer
, a new online virtual trainer to help you transform your body into a sexy-looking beast, now available in beta online.
If you could take the individual attention and long-term goal-hitting assistance that is the greatest boon to having a personal trainer at your gym (not to mention telling friends you're being trained by someone called Thunder) and make it into a website, you'd wind up with this.
To get the fat-blasting and core-thrashing under way, first create an account. (A warning: it's a bit laborious, but it will wind up helping you more because it's thorough.) Then, you'll keep a record of each day's workouts, set reasonable goals and get expert advice from online trainers, who'll tell you why focusing on certain muscles improves blood flow and allows for harder training (and more grunting).
You can even sync it with your social media accounts (Facebook, Twitter) and invite friends to monitor your stunning physical achievements as they use the platform for their own workouts.
No, you can't sabotage their regimen to beat their time on race day.