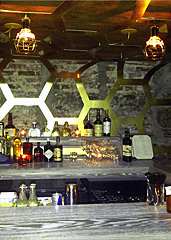 There's something shaking in the Meatpacking District.
According to early reports, it's originating beneath 14th Street.
And emitting dangerously high levels of speakeasy-style cocktails and 30-year-old funk music.
Welcome to
The Darby Downstairs
, an epicenter of late-night, celebrity-stocked dance parties with a palpable '70s swankness, now open.
What follows: a brief user's manual on when to grace this new subterranean lounge space with your presence...
1. Right Now

Okay, maybe not just right now, but an inclement Friday night is exactly the occasion for an upscale basement dancehall. You'll descend through an unmarked door adjacent to the restaurant entrance, grab a Mamie Taylor (single-malt scotch, lemon, ginger beer) at the oak bar and settle into a gold lacquer honeycomb leather booth. Or as you'll come to call it, your hive.

2. After a Champagne-Soaked Dinner Upstairs

By this point, you know how to conduct business at
the Darby
. Oysters Rockefeller to start. Tomahawk steak to follow. And live cabaret shows in between. But after the music on the main stage wraps, you'll now filter down to the 200-person (plus one DiCaprio) den below. Dessert was always overrated anyway.
3. During a Meatpacking Freak-Out/Sneak-Out

Not since SL or the Bunker have you had a sure thing in the MePa. So the next time your plans take a turn for the West 14th, you'll have this beige, bronze and mirror-walled music box in your back pocket. Or up your sleeve, if you're not wearing pants.