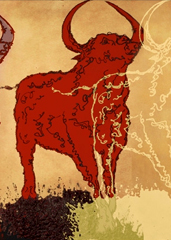 Your taste in art is a lot like your taste in fine wine.
So it's time to negotiate a merger.
Prepare to drink this in:
Painting with Wine by Matthew Lew
, now turning your favorite bottle of cabernet, chardonnay or champagne into a work of art.
The painter behind this is a Chicago-based mixed-media artist whose work has been featured at CB2 and on television shows like
Extreme Makeover: Home Edition
and that bastion of radical expressionism,
Cougar Town
.
So say you have a bottle of '92 Château Latour lying around your place. It's good but, you know, not
great
. Still, it holds a certain sentimental charm; it reminds you of biking through the French countryside when you discovered merlot was all the performance enhancer you needed.
Sit down with Lew and give him the backstory. Be as descriptive as you feel comfortable—he knows the adage: what happens in Bordeaux stays in Bordeaux. Using a technique he developed while studying art near Spain's wine country, he will slowly and precisely mix the wine with his acrylic paint to produce a unique pigment before using it to create your new masterpiece.
Of course, wine is just the beginning. Your palette is as big as your bar: go for a smoky bourbon; the bubbly off-white of champagne; the mint green of absinthe...
Hey, it worked for van Gogh.