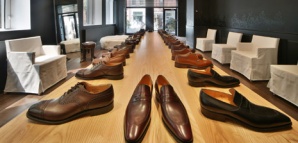 No matter the economy's direction, a gentleman knows that certain things are always a prudent investment. Perhaps chief among these: a superlative pair of dress shoes.

Of the same mind is Leffot, a high-end men's shoe boutique opening today where a Christopher Street toy store used to be (no, not that kind of toy store). This store has a formidable purpose—it aims to be your one-stop shop for some of the world's best men's shoes, side by side, all in one place and at your disposal.

Owner Steven Taffel offers a knowledgeable but unpretentious approach to some very serious gear. He's hand-picked just over a half-dozen of the world's best shoemakers and assembled their work on a solid ash table in the center of the dark, stylish store—so you have the rare opportunity to hold an Edward Green in one hand and a Pierre Corthay in the other, and compare a Church's English with an Artioli (trust us, that's a good thing). Even better, Leffot offers shoes available for the first time on this side of the Atlantic from acclaimed makers Aubercy and Gaziano & Girling.

And if none of the above is special enough for you, you can work with Steven to create your own customized pair (come on, you know you want to).

After all, economic cycles come and go, but you only have one pair of feet.