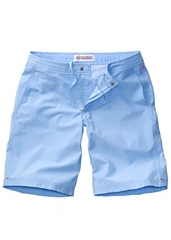 Pool season is dangerously close.
And sure, you've already got your stunning tan, Olympic-level diving skills and an impressive yak wool towel.
But at some point, you're going to need a swimsuit.
Which brings us to
Orlebar Brown
, a line of British swim trunks that might be the most refined thing you'll ever wear in a pool (after your waterproof tux), available now.
Imagine your favorite suit. Now toss the jacket in the fire, hem the pants to just above the knee, and paint the whole thing bright red. (Actually, don't. But imagine.) Once you're finished, you'll have a well-fitting pair of shorts that just happens to be pool-ready.
The tailoring is all straight from Savile Row, including bespoke touches like cinchable side tabs (basically a built-in belt). So if you notice a bit of dangerous sagginess after your first triple jackknife, you can tighten up the waistline at your hips and emerge with your dignity intact. And if you wind up celebrating your victory in a semiformal oyster bar, you'll be able to pass them off as shorts.
Although a tie wouldn't hurt.