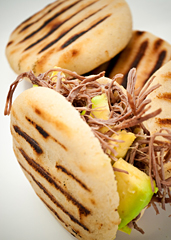 This past weekend: epic.
The supermoon. The dawn of spring. A music conference that simply refuses to end.
But it left you with a huge appetite. The kind that requires something with the power of a sandwich, and the pleasure of a stuffed pancake.
Naturally, we turn to Venezuela...
Say hello to
Mr. Good Stuff
, the city's first arepa truck, slinging crispy corn cakes stuffed with everything from pulled pork to coconut curry, now rolling on the streets of Miami.
Now, we know you may be feeling food truck fatigue. We get that. But sometimes you just need something sweet and savory. Something that reminds you of your days backpacking through Caracas. And in those moments, only a truck will do.
You know the drill: keep tabs on the truck via their
Facebook page
.
You'll find them parked frequently in the Brickell area, or at food truck courts like BTTR and Street Food Fridays—look for the banana-colored truck emblazoned with Lebo's trippy lip-smacking cartoon
.
Your options include the Sweet Caroline, a toasted cornmeal cake filled with Carolina BBQ pulled pork, and the Pineapple Express, brimming with coconut curry and hunks of pineapple.
And because you can't live on arepas alone, there's the
Lord of the Fries,
a mélange of Cajun fries, sliced hot dog, cheese and bacon.
Full moons really work up an appetite.