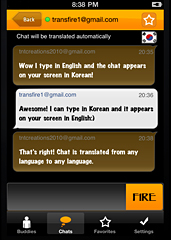 Last weekend, you became immortal.
Operation Base Tan went off without a hitch. Twisted Sister played your bonfire party on the 18th green at Capital City. And then there was that Italian sommelier from the wine auction whose only English words were "Come, we dance."
And while those words served you well at the time...
We have a feeling you may want to keep in touch.
Enter
TransFire
, a new iPhone app that automatically translates your texts or emails from any language to any language, now available for your strategic barrier-breaking deployment.
So let's say you and your non-English-speaking paramour just finished laying waste to the dance floor with a dazzling rendition of the pizzica. It's time to go your separate ways, but a late-night coup in an undisclosed location may be in order.
You'll want to join forces by downloading this app together and setting the home screen for English to Italian (or one of 50 other languages, depending on the... scenario). And after she does the exact opposite on her end, your late-night "meet me at the helipad, I'll bring the cava" text will be automatically translated before showing up on her phone in perfect Italian.
There's a loophole for everything.