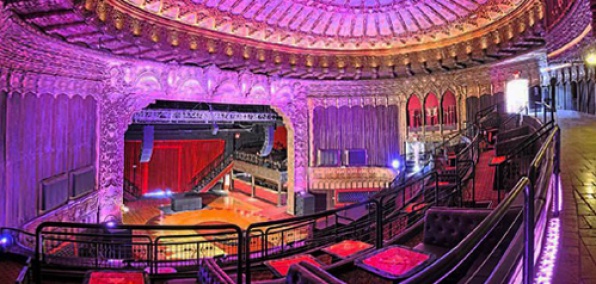 So. Your date. Let's talk.

She seems like the type who'd enjoy holing up in a little Downtown wine bar. So you have that in common.

But she might be more impressed if you brought out your suit and showed her into a grand old building for some theater.

Although, really, you're kind of in the mood for some close-quarters dancing in a dark basement nightclub.

Allow us to help you with... all of those activities.

Welcome to The Belasco, a newly restored 1926 hall of theater, wine, art and clubbing, officially grand opening tomorrow.

Long ago, this was the place to catch dramatic insight like Gentlemen Prefer Blondes. And it's still that. It's a theater and there'll be theater. But they're also not afraid to throw a full-on dance party. In fact, if you come by tomorrow's grand opening, you'll be moving to the electro beats of Deadmau5. (Alivemau5 was booked.)

So variety is the watchword with this place. One night you'll come by for some pinot noir at Vintage 10 Fifty, the lobby wine bar, before thoughtfully stroking your chin over some Beckett. And the next night you'll be watching some live body painting before descending into the basement nightclub to talk about the importance of art.

And the importance of basement nightclubs.