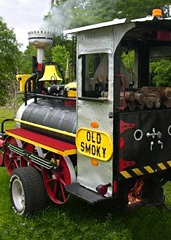 You've got a lot going for you right now.
Yesterday: plenty of beer and corned beef. All weekend: wall-to-wall basketball, coupled with burgers and wings.
Come Monday, you're going to want to keep your meat-related win streak going.
Enter a new food truck aimed at meat-and-smoke purists: the
Carnivore BBQ Truck
, rolling now.
Now, we know: you've seen plenty of food trucks lately. Even some
barbecue trucks
. But this one has a pedigree. Originally hand-built in Florida by a near-paralyzed Vietnam vet, the locomotive-shaped smoker they use ("Old Smoky") has been a fixture at BBQ battles and local farmers' markets (you prefer your smokers be museum-quality).
But when you need a lunchtime fix of 'cue and you search for it
via Twitter
, you'll be looking not for a locomotive, but a Chevy pickup truck emblazoned with flame graphics and a snarling tiger logo (it's the BBQ truck Charlie Sheen would create for himself).
Your choices: just two massive, half-pound sandwiches. The brisket sandwich is brined, while the pulled pork is dry-rubbed, and both local meats get smoked over hardwood for almost a full day. You'll also get to take your pick of vinegary slaw and/or Memphis-style sauce.
And if you'd like to feast your eyes on Old Smoky, you can still find it at markets in Bethesda, Kensington and Beltsville.
Just don't forget your bib.