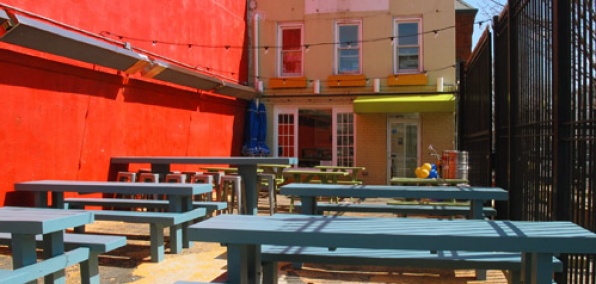 Your spring routine is always the same:

1. Set clocks forward;
2. Get badminton set and gold-encrusted shuttlecocks out of storage; and of course,
3. Find a new venue for outdoor drinking. 

Today, we're here to help you with No. 3.

Introducing Standard, a new, nearly all-outdoor space for beer and barbecue, soft-open now on 14th Street.

If a Memphis pitmaster moved to Bavaria and set up a beer garden, it would probably be something like this—an alluring realm where you can find serious draft beer served in exceptionally large glasses alongside brisket, pickles and onion rings.

You may not recognize this former garden store. The plants are gone, replaced by not much besides the two rows of sky blue picnic tables (with more under construction) and a few vintage motorcycles and mopeds (if you need to make a quick getaway, just bring them back later).

One day soon, you'll wander over after work, take a seat and lay claim to one of the six drafts, like North Coast Scrimshaw Pils and Köstritzer Schwarzbier, before moving on to a slawdog called the Dachshund in the Grass, BBQ short ribs with potato salad and other things that get along very well with beer.

Should a quick rainstorm come slashing through, you'll want to be among the first to take cover inside, because you'll find only a few stools in the tiny, white-tiled interior bar.

Protecting your beer from the elements: also among your spring traditions.