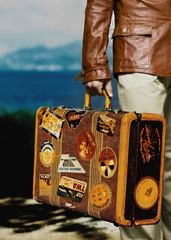 It's booked.
Your summer vacation to a private island so exclusive, the name cannot be spelled with the English alphabet.
It'll be perfect. Well, assuming your waterproof tux gets there.
But you shouldn't risk it...
Introducing the
Wireless Luggage Finder
, a luggage tag and key chain remote to track your checked bags and the precious cargo in them, available now.
First, it's not that you don't trust luggage handlers. Actually, that's exactly it. And you're not willing to risk them shipping your made-to-measure bathrobe to Sheboygan.
So let's say in the next two weeks you find yourself in Austin, hitting it off with a leggy bassist from an up-and-coming band (they're like Katy Perry meets Skynyrd). And now you're flying to Milwaukee (via Houston, Nashville and, for some reason, Winnipeg) for their next show. And you're checking their lucky snare drum.
You'll toss this wireless luggage tag on the drum case before you check the bag. Then take the remote key chain with you, and as you board the plane, it'll beep, light up and vibrate to signal that the bag is safely on board.
And once you've landed, it'll alert you just to let you know the bag didn't jump out of the plane. So stroll past the people hovering around the baggage carousel, relax and grab a Cinnabon. You'll get an alert when your bag's within 65 feet.
No one rushes your Cinnabon.