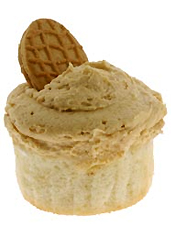 Come Saturday, you might just find yourself on Greenville.
And you might just be watching a parade. And, well, you might just find yourself overindulging on something delicious, irresistible and green...
Obviously, we're talking cupcakes.
Introducing
Trailercakes
, a vintage Airstream delivering batches of fluffy cupcakes. And this Saturday they'll be parked in front of the Libertine Bar for your green cupcaking indulgence.
Sure, you could easily grab a few red velvets from one of our city's many immobile cupcake stores. But there could be a long line wrapped around the building. And these folks have an Airstream.
So say that sometime soon you're hosting your assistant's birthday party, and you need something covered in icing—in fact, dozens of those somethings.
That's when you'll call up this place. Within 48 hours, you'll have up to nine flavors of cupcakes coming at you for delivery—like
Slap-Your-Mother Chocolate
or the
PB&J
. And if you're doing something bigger—say, a special surprise champagne soiree for your lady friend—you can have them cater (yes, they'll bring the Airstream).
And this Saturday, when you're sampling green beers, they'll be parked on Greenville Ave, serving up
Green
Velvet with Lucky
Charms
cupcakes.
No, you can't pay them in green beads.