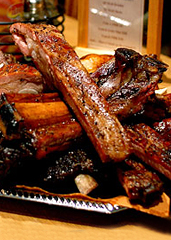 Today we'll get right to the point, because it's a point worth getting to.
There's a new spot downtown that wants you to have mountains of smoked meat. And soon.
Introducing
Hill Country
, a New York City–based tribute to meat, music and all things Austin, scheduled to open on Saturday.
The next time you find yourself feeling carnivorous in Penn Quarter (say, when you're at the Shakespeare Theatre next door and they won't let you bring your meat-filled lunch box to your seat), you'll wander in here, which looks like the biggest roadhouse you've ever seen: a wide-open expanse of steel and weathered woods.
Your first order of business: head for the back counter, where you'll place your order of meat dry-rubbed and smoked over oak shipped in from Texas—think
Beer Can Game Hen
, bone-in pork chops and brisket served either "lean" or "moist." (Always go moist.)
With your bounty safely resting on butcher paper and accompanied by saltine crackers, you'll take it to one of the thick butcher-block tables near the bar and acquire a Shiner Bock, which always pairs well with smoke.
Of course, by now you'll be thinking that more is more, and in this case, more comes in the form of
PB&J Cupcakes
and a dastardly cocktail called the
Kreuz Margarita
, which gets topped off with a serrano pepper.
These you can take downstairs, where you'll find a regular array of Austin-style rockabilly, country and blues bands.
Watch out for the tear in your beer.