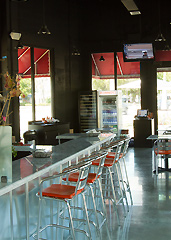 Your search for the perfect pizza has often led to bold action.
Flying to Italy for lunch. Tackling Mario Batali for the last slice at Gwyneth's picnic. Smuggling prize-winning prosciutto through customs.
And now, the ultimate sacrifice: driving to South Miami.
Welcome to
Forno52
, a shiny temple of thin-crust pies, now open in the wilds of Palmetto Bay.
So if for some reason you find yourself amid the jumble of strip malls and Metrorail tracks along South Dixie Highway, you'll want to stop here—home to a pizzaiolo who used to peddle his pies via a mobile wood-burning oven.
The rules are simple: there are nine pizzas and zero pastas. Don't ask for barbecue chicken or pineapple on your pie—no self-respecting Neapolitan piemaker would allow for such things. The mozzarella is made in-house daily. The sauce fashioned from San Marzano tomatoes and Sicilian sea salt. There is no pizza tossing.
For the best view, sit at the marble bar, in full sight of the Tuscan wood-burning oven—made from the same bricks as the Pantheon in Rome (so it should be good for another two thousand years or so). Summon a round of Italian beers like Moretti and
settle in for staples
like the
M

argherita
pie, or try the
Bianca al Prosciutto
, a white pizza with garlic, arugula and Italian prosciutto.
No smuggling necessary.