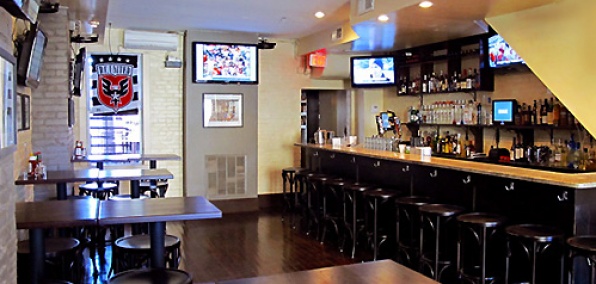 You've done things at odd hours. Hung out near the House floor during a 3am budget vote. Sought out a pancake breakfast at midnight.

And now: hit a sports bar at sunrise.

Introducing Touchdown, a new globally focused sports bar opening tomorrow at noon, just in time for the Arsenal-Barcelona matchup in the Champions League (we know you already took the day off).

This two-level, brick-lined space is the kind of comfortable spot where you can settle in for a doubleheader—even if it's a doubleheader across the globe (they'll open at 6am for some events).

You'll lead your troupe in and wander the first floor to take in the gallery of sports pics by local photojournalist Kevin Dietsch before heading upstairs. There, amid photos from the Senators' World Series win in 1924, you'll order up pitchers, from PBR to Flying Dog Imperial Porter, and pub grub like Buffalo Shrimp and Applewood Smoked Bacon Cheesesteaks.

Then, when your carefully considered bet comes through (you were taking Arsenal and the points, of course), it will be time to order up a Build-Your-Own Liquor Flight—three, four, five small pours; vodka, gin, tequila or an equally well-considered mix and match.

And in coming weeks you can expect a couple of new additions: a giant portrait of Duke Ellington (in Topps baseball card form) over the bar, and a companion fish-and-chips restaurant to open below.

No, it won't be called the Extra Point.