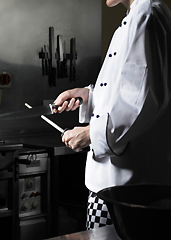 Your monthly dinner parties are the stuff of legend.
Granted, some of this has to do with the people you invite: long-bearded scholars, thick-mustachioed oil barons, Dallas Stars ice girls.
But it also has to do with the culinary masterworks. Only, they're becoming too much for you (you've already deployed both of your go-tos: filet mignon and cup-o-noodles).
You could use some help...
Introducing
Personal Chef for an Evening
, your chance to hand over your apron to a professional chef for a night, available now.
If Bobby Flay ever joined forces with Mary Poppins and invaded your kitchen, it would feel a little like this. The Flay-Poppins hybrid in question: Tim, a man who's served as executive chef at restaurants in St. Louis, and is now striking out on his own in Big D and advising chefs around the country (so he qualifies... barely).
Once the night and guest list are set, Tim will come into your home and work out a game plan. He can cook anything you want, but you can expect around five courses. Wild black bass. Mini pesto salad wraps. Texas pecan tarts. Things like that. (Or things not like that.)
And as you regale your guests with tales about the after-after Oscar party at Kirk Douglas's, Tim will wash the dishes and clean the counters.
Don't worry, he knows where your Slap Chop goes.