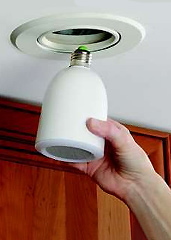 Light bulbs are constantly popping on over your head. They're solving the situation in North Africa. They're helping you draft the plans for your titanium-graphite foosball men. They're reminding you where to get a Sazerac at 10:30am.
But one thing they're not doing: playing music.
Until now.
Introducing
The Audio Light Bulb
, here to provide some deep bass and crisp trebles in addition to 60 watts of illumination, now available online.
This is pretty much what it sounds like—a wireless speaker that screws into a standard light bulb socket.
So picture it: you've once again managed to secure an abandoned factory for one of your notorious underground parties (this one has a
Blade Runner
theme). Your friend with the Watson-sized server full of MP3s is all set to unleash an aural assault of Ray LaMontagne trance remixes (you gotta hear it). All you need is sound.
Enter these bulbs. After you screw them in and flip the switch, you'll simply plug your iPod or other audio source into the transmitter, which can control as many as eight speakers.
And because no party is complete without a dimmer switch, the remote control not only manages your volume, but will dim the LED lights up to 50%.
The strobe light bulb speaker can't be far behind.