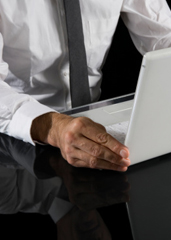 It's good to be the boss.
Carving out your own schedule. Never having to touch a coffee machine. Skyping with the Tokyo division from the sidecar of a '78 chopper driven by a new intern named Zofia.
But with all that comes a benchmark of professionalism to maintain. A reputation to uphold.
In other words, no one needs to see you updating your Facebook status...
Enter
TheFriendMail
, a new service/workplace stealth mission that brings all of your Facebook dealings (yes, all of them) directly into your personal email, now available in beta.
To be clear, this thing allows you to update your status, write on walls, check out profiles and view your news feed (in case you can't go another minute without knowing what your third-grade classmate had for lunch), all from the comfort of the email account of your choice.
So say it's a good time to let the world in on the as-yet-undisclosed location of your much-anticipated Mardi Gras soiree. Pull up your Outlook account, type the words "Cee Lo's treehouse. Knock three times. Password: Wes Mantooth" and send it to status@thefriendmail.com. Boom. Instant status update... all under the guise of a hard day's work.
Of course, you could always just close your door and use Facebook.