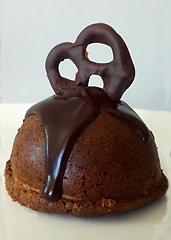 You had a busy weekend, culinary-wise.
You and Emeril hammered out that jambalaya sushi recipe. (Bam.) You destroyed Bourdain in beer pong. And the less said about you, the tattoo parlor and Paula Deen, the better.
And now you need dessert.
Good news: we're pretty sure we've found it.
Introducing
Yummy ChunBuns
, a new style of pastry that's here to give your regular donut routine a run for its money.
If you combined a Twinkie with a Chinese steamed bun, you'd get this. Designed by just your average performance artist/baker, these spongy cakes are about four inches long and come in combinations like peanut butter and chocolate, raspberry and white chocolate and—for the meat lover—sausage and cheese.
So imagine: your company made a boatload this year, and you feel like surprising your accounting team with something a little more exotic than red velvet cupcakes. You'll email the ChunBun folks, and within a day they'll deliver you a box of whatever you want, right to your door. (A half-dozen will run you about $24.)
And because the owner is into experimentation, she's also willing to make whatever concoction you can dream up, injecting your buns with anything from stone crab to whiskey.
Your ChunBuns, that is.