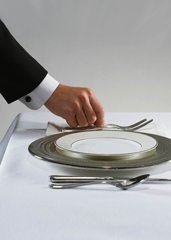 Restaurants: great, but occasionally predictable.
Buildings. Kitchens. Menus.
Sometimes you need to break free. And go underground...
Meet
Underground Dinners
, a BYOB dinner party with up to 12 courses of unpredictability, serving up supper on mystery dates in the future...
This is the brainchild of a chef who's worked everywhere from the beaches of Hawaii to the spice shop of the Spiceman. Now he's throwing weekly soirees in art houses, old warehouses and the occasional East Dallas vegetable garden.
You'll start by shooting him an email. And then you'll wait. Patiently. And on a random day, you'll be notified of a time, a location and a six- to 12-course menu. Respond "I'm in, plus one," and do it fast. If you're one of the first 20 to reply, you're in. (Bribes welcome.)
Wine in hand, you'll head to the disclosed location. You'll be greeted by one long, white-clothed table, 18 tablemates and a serenade from one of the chef's musician friends. Then, the plates will start flying out—boar meat, sea urchin, roasted pheasant over crab carbonara.
Oh, and we have word there might be a dinner tomorrow. We can't tell you where, but there might be room for two more... provided you mention that the Daddy sent you.
So please be on your best behavior.