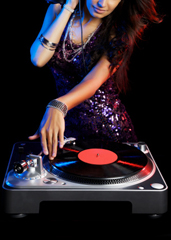 At work, you need one thing. And only one thing: an in-office humidor.
Oh, and a good playlist.
But you're busy. So here to build your next playlist... Twitter.
Meet
SndChck
, a new site that helps you remember bands by creating playlists through Twitter, online now.
So say you're at a certain upcoming music festival three hours south of here. And you're backstage enjoying some barbecue with the Wu-Tang Clan—they love your mom's sweet rib sauce. Suddenly, RZA remembers that there's an English band you need to see while you're in town.
But there's a problem: No pen. No paper. And your fingers are covered in barbecue sauce. So without taking off your BBQ bib, you lick your tweeting fingers and type "Chapel Club @sndchck" on Twitter.
Now, as you get back to your food, SndChck gets to work. It'll compile a playlist with 10 songs from both the suggested band and other bands that you might like. And once you return from Austin, you'll have a new playlist waiting when you sign in.
And a guest spot on Wu's next album.