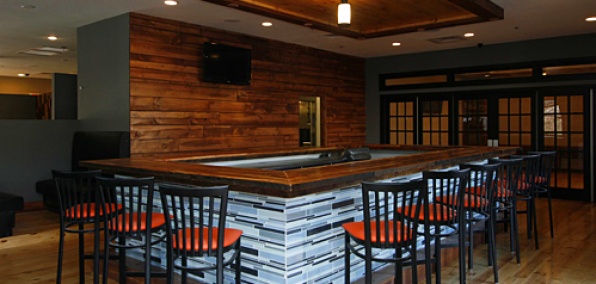 Options.

It's always nice to have a few at your disposal.

Shaken or stirred. Aspen or Gstaad. Alfresco oyster shooters with a date or power lobster-tailing with Grandma.

Wait. That came off wrong...

We should explain. But first, allow us to formally introduce you to The Vinings Fish Company, a laid-back new seafood spot that's pretty much whatever you want it to be, soft-opening Saturday night.

Now back to that explanation we owe you. On any given night here, you'll feel adequately winsome escorting your date (probably no sooner than the third) past the wood- and copper-topped bar and through the kitsch-free dining room. Keep going, and you'll find yourselves on the patio, sipping your way through a formidable wine list and fueling up for your après-dinner... activities by way of Lobster Bisque Under Brandy Foam and BBQ'd Mahi-Mahi with Smoked Tomato Grits.

A solid option, to be sure.

But should the occasion call for a more family-friendly approach—one of the many ways Vinings can be deployed—you'll find the blue-walled, reclaimed-wood-heavy dining room just laid-back and approachable enough to oblige (hat tip to the huge corner booth under the aquarium/flat-screen). So feel free to settle in, let the Key Lime Gimlets flow and catch up on Grandma Gert's latest mah-jongg gossip over Seafood Bouillabaisse and Lobster Mac & Cheese.

Which we're pretty sure your date would approve of, too.