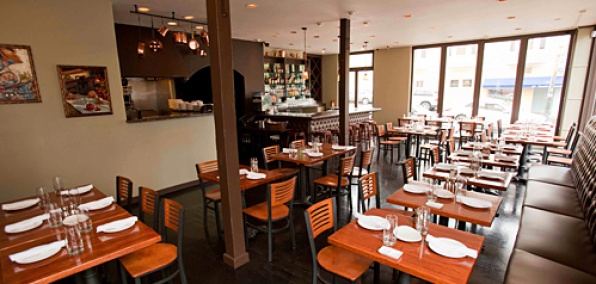 North Beach.

Home to old Italian guys, sketchy strip joints and pizza by the slice.

No complaints. But a sexy tapas bar is always welcome...

Introducing Campanula Kitchen and Bar, a new casual small-plates eatery with a healthy focus on cocktails, opening Thursday and bringing fresh blood to North Beach.

You're familiar with the lore of this area around Washington Square Park from Dirty Harry movies, Monroe/DiMaggio wedding photos and that Sicilian slice you ate last night. But aside from all that, you'll come to think of Campanula as the new guard putting North Beach back on the map with the prospect of potent cocktails and Mediterranean small plates from the Frascati crew.

The first order of business will be getting a Negroni or a Reviver at the eight-seat, steel-topped bar. Since half the restaurant is covered in floor-to-ceiling windows, you might want to venture to the tufted leather banquette for maximal plushness and comfort—and to avoid the fishbowl effect.

From here, you can linger over your aperitifs—and as they set in, consider some snacks like Nduja on Toast or Wild Boar Sliders. Or, since the kitchen plans to stay open late, order more cocktails and then go for heartier fare like a Kobe Beef Burger.

It's hard to say when aperitifs stop being aperitifs...