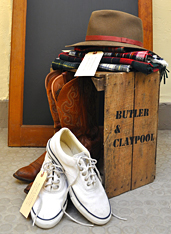 When you play rock and roll for a living, you can pick up a few things on your travels. Dirty looks in small Southern towns. Teenage reporters. Kate Hudson.
And now: heavy denim and vintage flannel.
Which brings us to
Butler + Claypool
, a new online/pop-up vintage operation dedicated to curating some of the best 20th-century workwear. They're previewing their goods Saturday at
American Ice Co
.
This is the kind of hardy gear that the Greatest Generation might have worn as they came home from the front and took on the building of America (that's your cue, Brokaw). Among the curators: Paul Thornley of DC band U.S. Royalty, who goes prospecting for this stuff at every vintage shop, antique shop and rest stop he can find while on tour. The rest, meanwhile, source from dealers as far away as Sweden.
The result: vintage jeans, felted cowboy hats, wool vests and leather bomber jackets, plus a few originals, like work aprons made from selvage denim (for working on your Gran Torino).
You can contact them directly if you're in the market for some snakeskin ankle boots. But there's extra incentive to pop in on Saturday, where your shopping will be fueled by beer and whiskey hot toddies, to say nothing of old-school rock, blues and pop, as deejayed by the U.S. Royalty guys. We understand some Hall & Oates may be involved.
Don't say we didn't warn you.