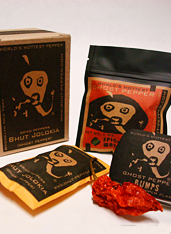 Yesterday: big day for candy.
Today: an even bigger one...
Because this time, your typical sweets have been given a potentially lethal dose of heat...
Introducing
Bhut Jolokia Candy
, made from the world's most powerful chili pepper, available now.
Here's what you need to know. The Bhut Jolokia, aka "the ghost pepper," scores over a million on the Scoville spiciness rating scale—the highest ever recorded. (Your last jalapeño: around 5,000.) In its native India, it's used to ward off elephants and to incapacitate rioters—so, naturally, someone's gone and turned it into candy.
The results: kind of like a Hot Tamale turned up to 11. It looks more like a Jolly Rancher, but one that's been infused with the almighty pepper. When you're finally ready to eat it—after you've downed some milk and said good-bye to your loved ones—you'll unwrap it, slowly place it on your tongue and wait. After a few minutes—or seconds, if you can't help crunching down—your mouth will be alive with a long, lasting fire.
And your breath will ward off any nearby elephants.