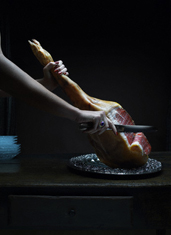 You're looking at a big week.
Power struggles in Egypt. Tunisians flooding into Italy. Man versus machine on
Jeopardy!
You're going to need some carnivorous reinforcements. We're thinking exclusive pigs.
So allow us to suggest a shipment of
Mangalitsa Pork
from Pasture Prime Family Farm, the only farm in Florida breeding and fattening the most prized white meat on the planet.
If you've been keeping up with the world of swine, you're familiar with this highly acclaimed "Kobe" of pigs. Essentially, these are curly-haired hogs descended from an Austrian breed of super-fatty worker pigs fawned over for their intense layer of lard and marbled flesh. What this means for you is a succulent level of porkiness never before seen in these parts.
Where you'll get yours: on a farm in Ocala, which raises about three dozen of them on 450 acres. Normally, they only sell to restaurants (like Todd English's bluezoo in Orlando), but if you use the meat broker Culinary Classics, you can buy large cuts—everything from a loin to an entire 15-pound pork belly—at $6 to $18 per pound.
The Mangalitsa will be shipped to your door within 24 hours in a Styrofoam cooler. And you can also order five-pound bundles of ribs, entire pig heads and blocks of un-rendered fat.
Nobody renders fat like you.