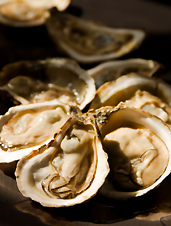 We just looked into your future.
And honestly, it looks strong to very strong.
But somewhere between the après-bobsledding cocktails with Norwegian farmers' daughters and a short stint as Speaker of the House, we found a small blip on the radar.
Next Monday night...
Don't worry, we're already on it. So to help keep your V-Day dealings as painless as possible, allow us to point you in the direction of the
Aphrodisiac Dinner
at Three Sheets, a five-course amalgam of... stimulating foodstuffs, now available for Valentine's night reservations.
If you've been to this place before, you may have picked up on a certain "Liberace's master bedroom meets Don Juan's subterranean seduction lair" vibe—dramatic candelabras dripping with wax, red velvet curtains... and a very noticeable lack of dinner tables.
Which actually works out. Because in their stead you'll find row after row of plush, dark couches and private nooks with just enough tabletop real estate to accommodate the aphrodisiac-laden onslaught of oyster shooters, lamb lollipops with acai glaze and bananas foster flambé to come.
Of course, you'll also be treated to a gratis glass of champagne, but we have a pretty good feeling you'll be going full bottle on this one.
Which should definitely help pick up where the bananas foster left off.