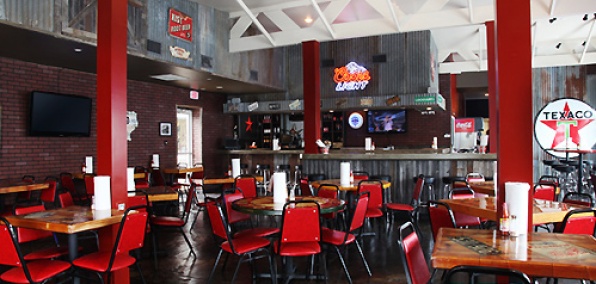 The snow day.

You've had two of them. And they were magical.

But something was missing. Actually, it was someone—someone who's caring, giving and, most importantly, knows how to handle some tongs.

Introducing Lockhart Smokehouse, a laid-back barbecue joint in Bishop Arts, opening today.

As you may know, some consider Lockhart, TX, to be the barbecue capital of the state. That's a discussion (and a BBQ crawl) for another time, but here's why we bring it up: the owner here's a descendant of Kreuz barbecue—a Lockhart powerhouse since 1900—and the pitmaster's a protégé to Kreuz's pitmaster. In other words, they know what they're doing.

So today, if your curiosity (and possibly your snowmobile) takes you to this place, you'll find the bar's made from old fences, there's rusty tin siding on the walls, and old license plates are scattered about—it's like a West Texas barn. With flat-screens.

Inside the pit—fire-engine red and custom-made—they'll be cooking up pork ribs, shoulder clod and Kreuz jalapeño sausage. Whatever you choose, it'll be served without plates, silverware or... barbecue sauce. (They're purists.) But they do offer a fully stocked bar and napkins.

You're not a barbarian.