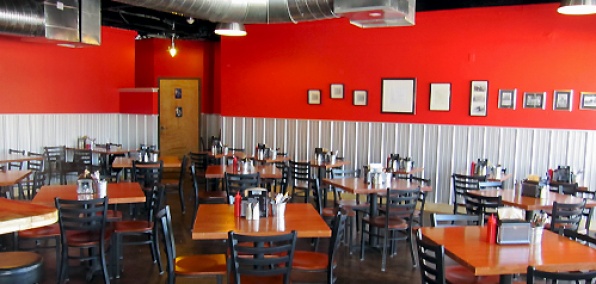 Honestly, this is just ridiculous.

Yesterday, you were at the park, throwing a Frisbee around in the dead of winter.

Today... crouched under an umbrella and wondering what happened to all the dogs and yoga pants.

So it was a bit of a tease—but if anything, a not-so-subtle reminder of the backyard barbecues, 18-hole conference calls and impromptu Triple Lindy–offs to come.

Except for that barbecue part. That's now...

Introducing Burnt Fork BBQ, a no-frills, grassroots Q house and your new respite for all things grilled, smoked and sudsy, soft-open now in Decatur.

Okay, so there may be a few frills. But you won't find them as you step inside, peruse the hand-scrawled menu and place your order at the counter. Or even after that, when you cross into the tin-walled dining room flecked with wooden tables, local art and... toothpick dispensers.

No, the frills come later. Like when you anchor up to the bar, signal for a Terrapin Hopsecutioner or a glass of Cheerwine (or wine-wine) while you wait for your chopped brisket sandwich with spicy hush puppies and sweet potato chips to arrive.

They're still getting their feet wet at this point, but in the very near future you can expect things to take on a more international slant by way of Mexican barbacoa, Korean beef and smoked duck tacos.

All of which still pair well with a 2011 Cheerwine.