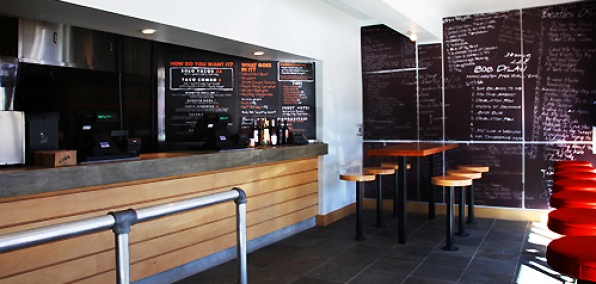 Our team of queso-splatter analysts has been busy.

New intel has been unearthed. Tortilla chips have been dusted for fingerprints.

And here's what they've found: you need more margarita popsicles in your life.

So meet Digg's Taco Shop, a new Highland Park taco joint serving up mahi tacos and adventurous desserts, opening Tuesday.

Imagine your typical Tex-Mex place, but with a bit more... Bruce Dickinson. There's a mural made from orange and gray cassette tapes, Bob Dylan and Beatles set lists are plastered on the walls, and there's an earth-rattling sound system fit for a Metallica show. (We're pretty sure the volume goes to 11.)

So the next time you're looking for tequila on a stick—anytime after Tuesday should be good—you'll head here. Slide past the tan wooden bar and settle into one of the orange banquettes along the wall—they've got speakers built into their backs, so you can finally simulate the experience of eating tacos while getting a massage. Actually, that gives us an idea...

But back to the food. There's your standard sandwiches and tacos, like the spicy soft-shelled pork carnitas number with habanero sauce. And then there's those margarita popsicles, which come in flavors like mango, strawberry and pomegranate.

You'll do anything to stay cool in February.