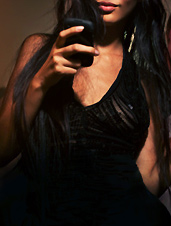 Your last apartment rager.
People are still talking about it. Sure, having Bill Murray stop by was a nice touch. But you also had a killer playlist going the whole time.
In fact, the only thing that could've made it better: if the crowd had gotten in on the action. Via their phones, let's say...
Presenting
djtxt
, your new way to crowdsource the soundtrack to your next bash, now available online via Grooveshark.
So say you're throwing your annual "It's -3 degrees outside, let's party" party this weekend, and after getting the sand for the indoor beach theme (not to mention assembling the indoor wave pool), you find out your in-house DJ is on vacation, and you simply don't have time to orchestrate your usual devastatingly awesome music playlist.
Simply go to djtxt, drag it into your bookmarks toolbar and launch Grooveshark when the party gets under way. From there, people will be able to text the artist and song title (e.g., "Barry Manilow Mandy") to djtxt, which will then queue that up as the next song, and even create a playlist of all the music to revisit after the party.
And if for some reason a reveler decided to get every song from Tag Team's catalog on deck, you can cancel songs by texting "skip" to the same number.
Too much "Whoomp! (There It Is)" is never a good thing.