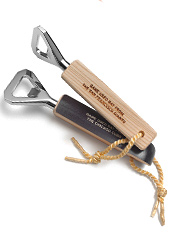 The Pats are out.
Fine. Let's move right on to that other team of yours, the Sox.
And specifically, their bats. Which you will now use to open your beer. Seriously.
Presenting the
Red Sox Baseball Bat Bottle Opener
, a bottle opener made from the wood in an actual game-tested Red Sox bat, now available online.
Yes, you now have two ways to get your hands around a Red Sox bat. One: be a really good high school baseball player, get drafted, spend a few years tooling around the minors, get called up to the big leagues, look Francona in the eye, tell him you're ready to pinch-hit for Youkilis, step up to the plate and knock one over the Green Monster.
Or, buy this bottle opener. Which, unlike your 30 or so other bottle openers—many of which have been worn down after decades of use à la Tim Robbins's rock hammer in
Shawshank
—was used to swing at 95 mph fastballs.
And just to confirm its authenticity for any doubters out there, each opener comes with a special hologram number, which you can plug in at
this website
to find out which game the bat appeared in.
With any luck, you could find out your bat is from that unforgettable night at Fenway a few years ago.
You know: Red Sox–Orioles, July 31, 2007.