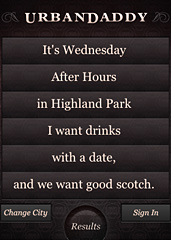 It's going to happen. Soon. Very soon. Like in 10 minutes.
You'll start considering the age-old question: how can I make my night at least 10% more fun?
At that point, you'll have exactly one option: hint, it's in your pocket.
No, not that pocket.
That one.
Stand back and behold: the UrbanDaddy mobile app,
The Next Move
, now live in Dallas.
To put it another way, it's like having a UD editor on call 24/7, serving as your personal on-the-scene concierge/majordomo. You tell us who you're with and what kind of hijinks you want to get up to, and we'll tell you the play, filtered by your location and your exact needs.
So finally you'll have answers to life's most pressing questions—like where to go on a Monday night when your boss wants to grab a margarita with the Cowboys cheerleaders. Or where to seduce your date over queso. We'll even tell you where to get tapas with those cougar-loving oil tycoons coming to town.
And as another feature, the app won't judge you.