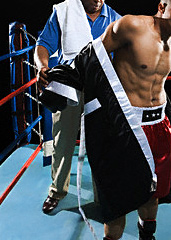 Your relationship with coaches is long and storied. And complex. Yes, they made you do push-ups in puddles in February. But they also worked the refs for you, handed you trophies at the end of the year and wrote your college recommendations.
Well, they're back (albeit maybe with fewer whistles).
Introducing
CoachPlace
, a site that works like a clearinghouse for coaches of all stripes.
We know what you're thinking: a site filled with new-age types who want to take away your stress through meditation and mantras and advanced chakra building. And sure, you can find them here.
But you'll want to focus on the site's abundance of more... grounded coaches. Like accent and dialect coaches (useful for penetrating Putin's inner circle). Or public speaking and writing coaches, there to help you sell the National Park Service on your public-private effort to dye the Potomac green for St. Patrick's Day. And dozens of executive leadership and business coaches, for when you have to coordinate your team to get all those dye packs into the water.
As for navigating the site, it's pretty straightforward. After signing up, you'll peruse coaches, along with their experience level, articles they've written and events they've held. Then you and your coach will interact either online or offline, while you impress them with your tireless work ethic, à la
Rudy
.
And when all is said and done, you can douse your computer with Gatorade.