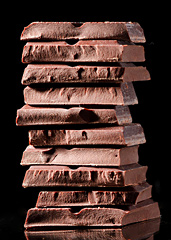 The bold. The brave. The pioneers. These are your people.
Particularly when they're devoting their talents to some of the most important issues of our time.
Like discovering a whole new kind of chocolate...
Introducing
Fortunato No. 4
, the first chocolate bar made from a newly rediscovered Peruvian cacao bean, available now.
Let's be clear. This thing looks, smells and even tastes suspiciously like a regular chocolate bar. But don't worry about that. Here's what matters: this is a species of chocolate you've never laid taste buds on before. The bean is called Pure Nacional, and it was considered unharvestable for the past century. That is, until some California chocolatiers came across a brand-new crop of the beans growing wild in the mountains of northern Peru. (You know, that old story.)
Once you're hooked, you can move on to the raw, unadulterated version: a chocolate-coated Pure Nacional bean. The nugget inside is straight from the plant (give or take a little roasting), so you'll taste every last iota of chocolate.
Incidentally, this is also how they discovered Skittles.