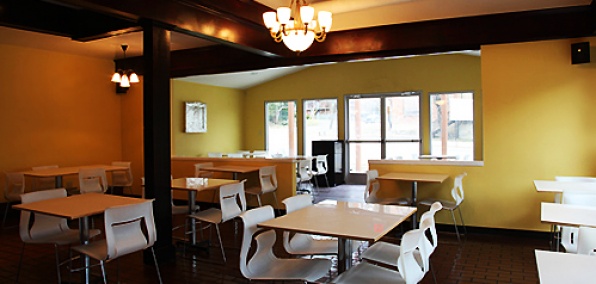 It's Friday.

The boss is gone. The interns are knee-deep in spreadsheets. And you're measuring your office for a shuffleboard table.

So we'll keep this short. One word: enchiladeria.

Meet Bee, a new unofficial mecca of rolled tortillas, opening next Friday in the Bishop Arts District.

Yes, we said enchiladeria—that's what the folks behind this place (and also behind Monica's) are calling it. So after a rough day of conference calls (and shuffleboard), you'll drive toward a glowing beacon that practically screams enchiladas: a massive yellow sign with a mustachioed bee wearing a sombrero.

Go inside, look around, and you'll find a five-person assembly line of professional tortilla rollers, diligently preparing your meal. Take in the queso-colored walls, smell that fresh beef brisket—it's a little like drowning in a bowl of beef and queso. (Actually, not a bad way to go.)

Now to the enchiladas. For too long, the enchilada was the Kevin Jonas to the taco (Nick Jonas) and the burrito (Joe Jonas). But here, enchiladas are king—with everything from brisket and pork carnitas to the Shrimp Diablo Especiale, an ultra-hot concoction with onions, tomatoes, oaxaca cheese and chipotle crema.

We hear they even have cheese enchiladas.