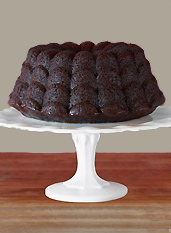 Day three.
You've sledded down Peachtree wearing nothing but a conveniently placed mitten. Put the finishing touches on your 35-foot snow sculpture of Kenny Loggins. Watched
Judge Hatchett
.
Needless to say, it's time to throw a little cabin fever party.
But first, we've got someone you should meet...
Say hello to Julie, the self-proclaimed queen of liquor cakes and the mastermind behind
Immaculate Confections
, your new go-to for the bare essentials of a snowed-in existence: baked goods and booze.
Let's face it, you're not doing any baking anytime soon. But in times like these, it just so happens that the crowd demands it (and by crowd, we mean that blonde with the Labradoodle from two doors down).
So about 24 hours before your soiree (read: now), you'll want to jump online and sift through Julie's myriad flavor options, like Kahlua, Chambord, bourbon and Grand Marnier... all of which conveniently happen to come with cake. More specifically, you'll be dealing with such glorious hybrids as
Dark Chocolate Chambord Cake
with black currant glaze and
Vanilla Grand Marnier Cake
with orange glaze.
We should also mention that Julie lives in LA, but thanks to the mystical powers of overnight delivery, your booze-infused bounty will arrive at your door long before anyone else does.
Your party planner doesn't count.