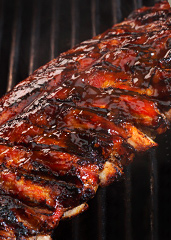 Generally speaking, a smoking truck is not a good thing.
Unless, of course, that truck isn't actually on fire.
And the meat inside of it is.
Then we can say that all is right in the world.
Introducing
The
Rib Whip
—a new food truck cooking up Midwest-style ribs and brisket on the go—rolling into Off the Grid on Thursday and its permanent SoMa lot in two weeks.
From the outside, it's a pretty unassuming old '77 Chevy Step Van with the St. Louis Arch painted on the sides. But inside, it's loaded with a heavy-duty wood-chip smoker that can cook up 65 slabs of ribs in half a day's time (that's upwards of 250 pounds of BBQ).
But if you want something even heartier than ribs, you'll need the
You Don't Make Friends with Salad
sandwich, a triple meat burger with chopped brisket molded into a patty, pulled pork and a top layer of melted pimento cheese.
And being that the chef/owner is a St. Louis native with audio/visual expertise (a talent that should never be underrated), the truck has a professional sound system for DJ decks, and plans are in motion for upcoming dinner-and-a-movie nights at the lot.
The parking lot scene is alive and well.