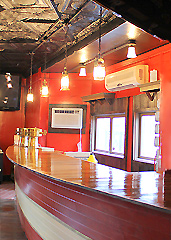 It's hard to beat that feeling when something you've missed comes back into your life.
Like, for instance, if it had been out to sea for a few months.
Or just looks like it had, anyway.
Which brings us to
The
Argonaut
, that seafaring spot at the end of H Street, ready to fully throw open its doors again on Saturday after a fire last spring.
Inside, you'll find the same well-worn, nautical charm it always had. But you'll also find dining rooms upstairs and down, and the place decked out in wood trim salvaged from the old floorboards.
You'll walk in cold, tired, seawater still squishing around in your boots (okay, not that last one), and make your way to the bar. It's been relocated, but don't worry, you can't miss it: it's built of beech wood bent to look like a ship's bow, with an Ancient Greek design carved by a chainsaw artist.
First up: thumb through the rotating array of limited-stock "playtime drafts" like Goose Island's Matilda and the Bruery's 3 French Hens, which spring forth from salvaged antique taps. Then you'll tuck into whatever the kitchen's new steamer is turning out, be it snow crab, lobster or clams.
But you'll come back when the weather breaks and the patio reopens. The new bar has a helpful window, so it can also serve you when you're outside dominating the corn toss.
And keeping an eye on your schooner.