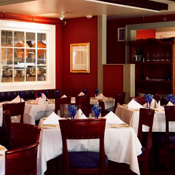 Table 32, Antica Posta
This Tuscan spot was once a Buckhead home, so expect to find some remnants of its former life throughout the dining room—like a roaring fireplace, with a two-top situated directly in front of it. Unfortunately, the master bedroom didn't survive renovations.

Why it's right: Every table here demands seduction—this one is just the most demanding.